Tanahat Monastery was mentioned as early as the 8th century and was one of medieval Armenia's most important religious and cultural centers.
Its main church, Surb Stepanos (St. Stephen) (1), was built between the years 1273 to 1279 under the patronage of the Proshian family. The church has a cruciform interior with annexes in its four corners; those flanking the main altar on the east are two-story. The exterior is rectangular with a slender 12-facet drum and a dome with a tent-roof spire. The Proshian emblem, an eagle clutching a lamb in its talons, is carved on the southern wall of the church.
The single nave 13th century Surb N'shan (Holy Sign) Church (2) adjoining the monument from the north has a highly expressive bas-relief carving on the lintel over its entry, depicting a remarkable hunt scene. In 1970 excavators found a single nave church (3) with two annexes southwest of the Tanahat Monastery, a number of secular buildings and numerous tombstones, dating back to the 13th–14th centuries. Also found was a gavit (enclosed area) with a square plan, to the west of the church.
For more places to see in Vayots dzor: Places to see in Vayots Dzor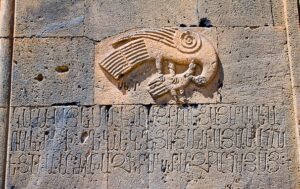 Some scholars believe that the Monastery housed Gladzor University (founded in 1282), the most prominent educational institution of its day in Medieval Armenia, where Natural Sciences, Mathematics, Theology, Geometry, Astronomy, Chronology, Miniature Painting and other subjects were taught. Others insist that Gladzor University's location is still unknown (sources make a reference to Aghberts monastery).
Famous medieval students of the university included the historian Stepanos Orbelian, the philosophers Yesayi Nchetsi and Hovhan Vorotnetsi, the architect Momik and the miniature painters Toros Taronatsi and Avag.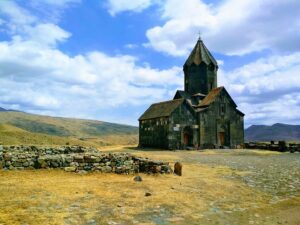 Source www.armenianheritage.org/