Camping has become increasingly popular in Armenia as more people are drawn to the country's diverse landscapes. With its contrasting reliefs, forests, rivers, and mountain lakes, Armenia offers a variety of camping spots for nature enthusiasts. This article provides all the information you need to plan and go on a beautiful camping trip in Armenia.
What is the best season for camping in Armenia?
The best time to go camping in Armenia is from the middle of April through the end of October. During this period, the weather is generally pleasant, allowing you to enjoy your camping experience fully.
Top Camping Spots in Armenia
Despite its relatively small size, Armenia boasts numerous camping destinations that can be explored during a two-week trip. Here are three recommended regions for camping:
1.Northern Armenia
The Lori region in Northern Armenia is abundant in forest resources and features a relatively humid climate, making it an excellent choice for camping. Dilijan National Park in the Tavush region offers a captivating camping experience.
2.Central Armenia
Garni and Goght villages in Central Armenia are well-suited for camping, offering stunning landscapes. If you prefer camping by the lakeside, Lake Sevan is a great location too.
3.Southern Armenia
Southern Armenia encompasses the Vayots Dzor and Syunik regions. Vayots Dzor is well known for its breathtaking landscapes and historical and cultural monuments that you can get acquainted in our blog post: Places too see in Vayots Dzor. It serves as a connection between Central Armenia and the Syunik region. When heading south, many travelers choose to stop in Vayots Dzor. When traveling to Southern Armenia, you can stop at Crossway Camping which offers various camping accommodations, including tents and Camper spots. To learn more about our campsite, visit: Crossway Camping.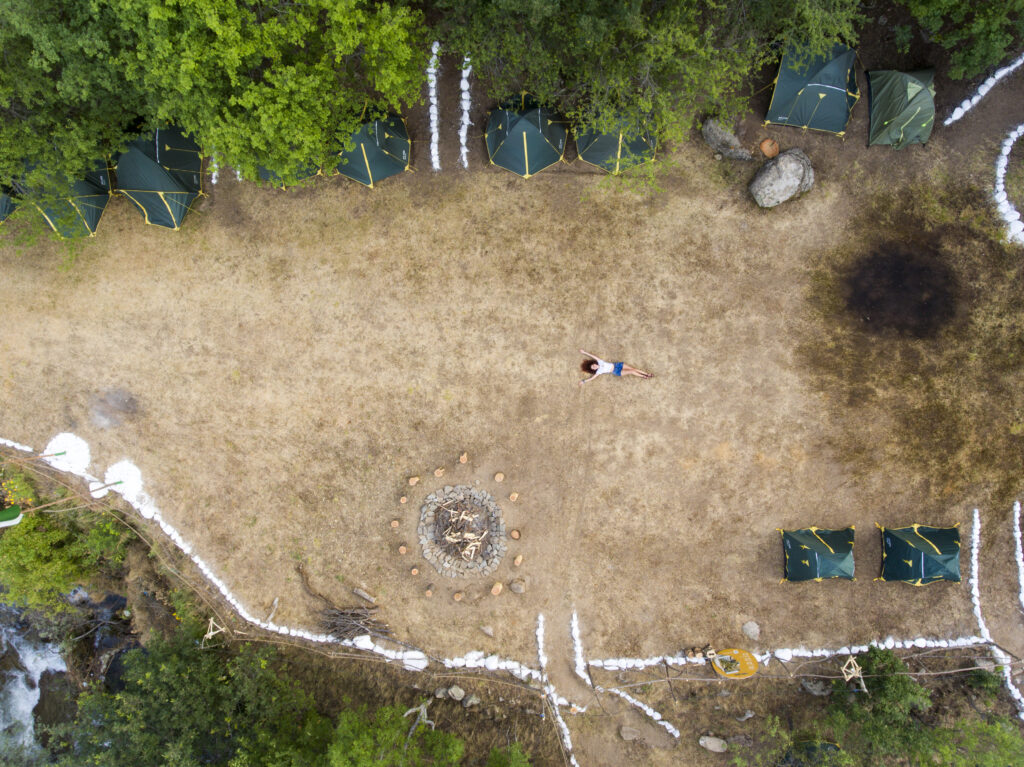 Transportation in Armenia
There are several transportation options available for moving around Armenia:
Inter-community buses: 
Minibuses operate on bus routes connecting Yerevan to all regions and its relatively large towns. All you need to do is find the station in Yerevan leading to your desired destination. However, it is essential to note that these minibusses may not be the most comfortable option for long journeys.
Railway transport:
Armenia's railway system is limited. Currently, only Yerevan-Gyumri-Yerevan and Yerevan-Sevan-Yerevan railway lines are operating.
Taxi services:
Besides local taxi services, and you can utilize taxi applications such as GG or Yandex Go. GG Shuttle service could also be an excellent option for traveling to the regions of Armenia.
Car rental:
Car rental agencies are mainly located in Yerevan, offering a wide range of vehicles to suit your needs.
Hitchhiking:
Hitchhiking is a popular option in Armenia, as local drivers are generally glad to transport both Armenian and foreign travelers.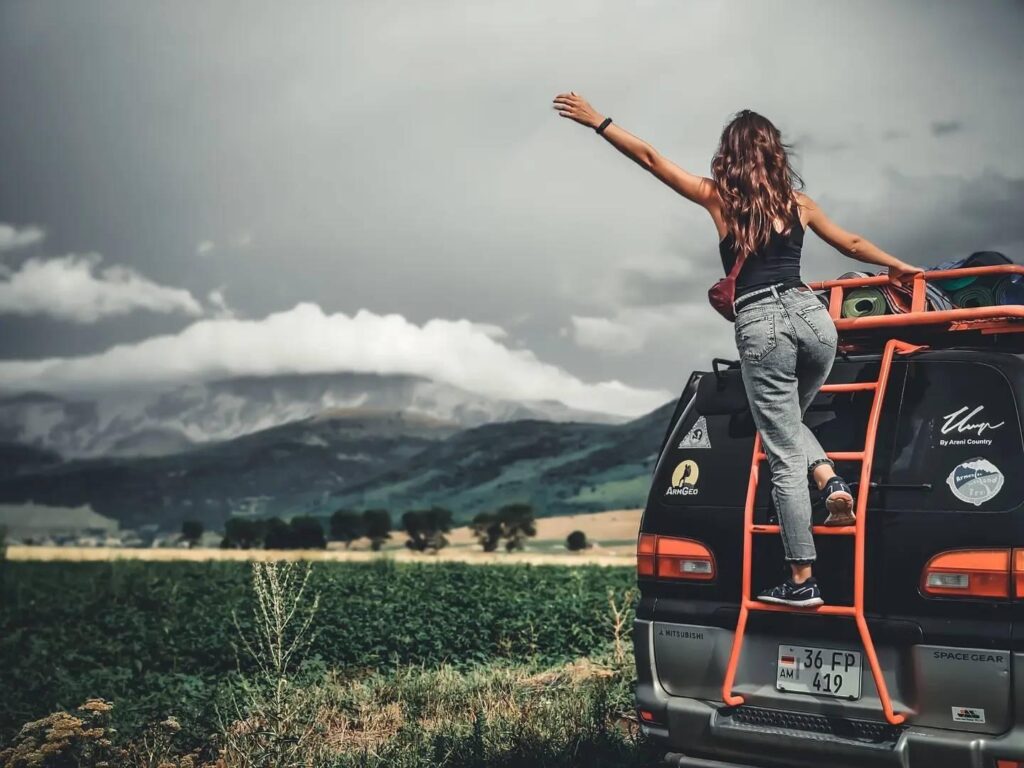 Where to eat during your camping trip?
Unless you plan to camp in the mountain areas, you will easily find food in the local villages or towns. Though there might be a lack of restaurants or cafes in the regions, you can purchase some food directly from the stores or local villagers.
Camping Gear and Clothing
There are various shops selling hiking clothes and accessories, including camping gear. Here are some stores where you can find camping essentials:
Although Armenia has a rich fauna, wild animals rarely pose a threat as they predominantly inhabit inaccessible areas or reserves.
Languages Spoken in Armenia
The majority of Armenians possess a solid understanding of Russian. Travelers who are fluent in Russian will find it easier to interact with the local population. Younger and middle-aged Armenians often have a high level of English proficiency.
Exciting Adventures to Combine with your Camping Trip
While Armenia is renowned for its status as the first Christian country and its abundance of ancient cultural monuments, the country also offers thrilling adventure tourism opportunities. Here are some activities that can complement your camping experience:
Mountain hikes
Mountain biking
SUV tours
Rafting
Zipline and extreme parks
Paragliding
Horse riding
Supboarding
Essential Tips for an Enjoyable Camping Experience in Armenia
To ensure a successful and memorable camping trip in Armenia, here are some valuable tips to consider:
Stay Updated with the Weather Forecast:
Armenia's mountainous terrain can lead to unpredictable weather changes. Therefore, it is crucial to check the weather forecast regularly. Pack a raincoat and warm clothes to stay prepared for unexpected weather conditions.
Protect Your Skin with Sunscreen:
During the summer, Armenia experiences strong sunlight. Take necessary precautions and apply sunscreen to avoid sunburns and protect your skin from harmful UV rays.
Exercise Caution Regarding Fire Safety:
From July onwards, certain regions in Armenia, such as Ararat and Vayots Dzor, experience dry climates. Following fire safety regulations and avoiding engaging in activities that could cause wildfires is essential. Be responsible and mindful of the environment.
You might meet a lot of stray dogs:
While stray dogs are generally friendly and harmless, it is advisable to be cautious. Do not be afraid of them, but maintain a safe distance. If you face any issues or need medicine, feel free to ask for assistance from the camping administration or local people. In Armenia, helping others is a cultural norm.
Don't hesitate to ask for help:
If you need assistance during your camping trip, do not hesitate to ask for help. Whether it's the camping administration or even strangers, Armenians are known for their kindness and willingness to lend a helping hand to those in need.
Camping in Protected Areas:
If you plan to camp in protected areas, ensure you know of any special permits or permissions required beforehand. Respect the regulations and guidelines in place to preserve the natural beauty of these areas.
Have sufficient cash on hand:
While card and online payment options are becoming more common in Armenia, it is still recommended to carry enough cash with you, particularly when traveling to the regions. Some local stores may not accept electronic payments, so having cash is essential.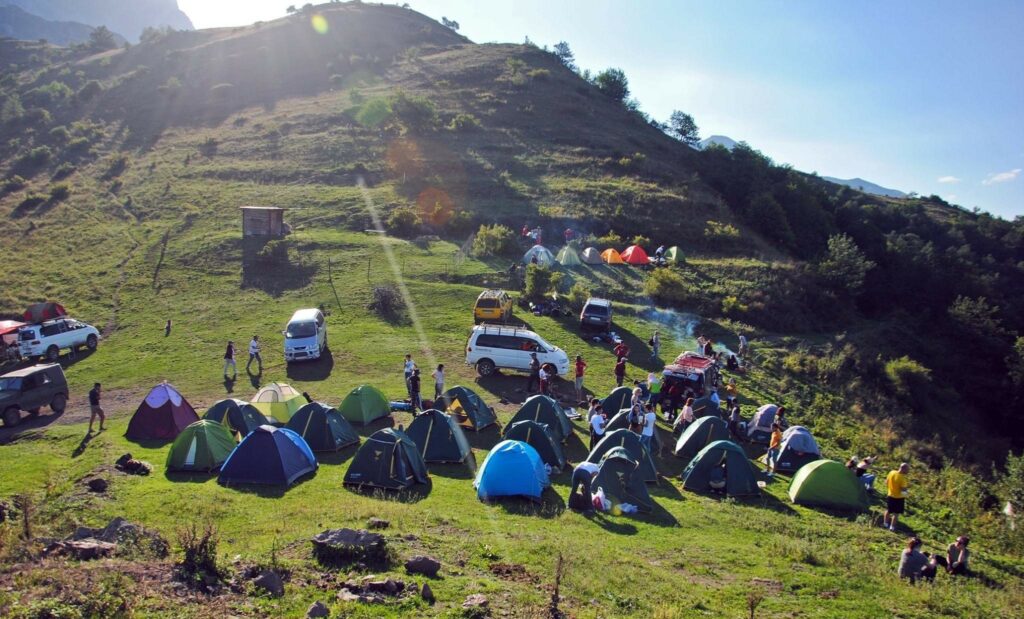 This article is copyrighted by campinginarmenia.com. The content of the article can be quoted, used on other sites, only with an active link to the source.